Mobile 07899001099  Home 01484 900788  www.stevecrow.co.uk  email stevecrowsax@gmail.com
My main focus is classic or vintage saxophones. Top of the list in this respect would be the classic range of Selmer Mark VI (6) instruments be it alto, tenor, soprano or baritone. Many professional players consider these to be the best of them all but there are and have been over the years several other great horns with character all of their own with Conn, Buescher to name only a couple. Saxophones from years gone by, once great but now tired and/or ravaged by the sands of time can be brought back to life and even rebuilt to 'new' condition. This is acheived through skills honed through years of experience and craft along with a level of care and sensitivity perhaps only found in those who have a genuine love of the saxophone. Do you love the sound quality of that old Conn but find that keywork is worn or old and clunky ? This can be put right or even brought into line with more modern, up to date standards of slickness found on newer horns, either way your horn can once again be one that you won't want to put back into it's case !
About Me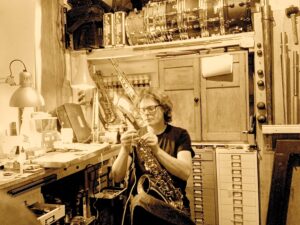 Saxophones have been a part of my life for as long as I can remember, and fixing them, for nearly as long. Originally a drummer from an early age working with my mum – a singer and piano player – and my dad a saxophonist- I started to play the sax in my late teens. In 1983 I started a 4 year engineering apprenticeship and this gave me experience in working with all types of metals and the ability to use engineering tools.  I had being playing for around 2 years when my trusty old Yamaha 23 developed a problem and it had to go to be repaired – when I got it back the problem was still there and I was £35.00 down!  This was the start of my repair career. After a few years of repairing I bumped into Peter Davies who is an oboe specialist and together we built up a successful woodwind shop in Huddersfield. It was Peter who trained me in specialist keywork making and modifications. After having my foot on the accelerator for a good few years  I decided  to slow down and started to work from home. My customers are from as far afield as the Caribbean, Australia and Europe.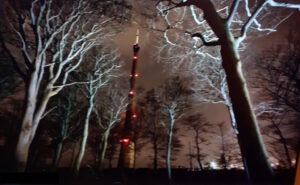 ---