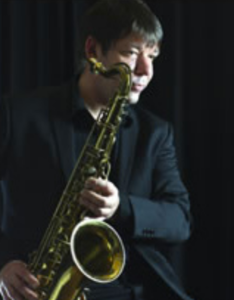 Dean Masser is a tenor saxophonist who is continuing the legacy of the greatest exponents of the instrument in the jazz idiom.
From an early age, Dean was exposed to the music of Duke Ellington and Count Basie, and the sounds of players like Ben Webster, Lester Young and Eddie Lockjaw Davis.
When he started to play saxophone in his teens, he was drawn to the big-toned, hard swinging style of Dexter Gordon, and later Sonny Rollins, John Coltrane, Johnny Griffin, Stanley Turrentine et al.
After studying at the City of Leeds College of Music for three years, emerging as saxophone prizewinner, he became a member of the Jack Parnell Quartet, which recorded a live album during a week-long stint at Ronnie Scott's.
Since then, Dean has played alongside many of the leading names in British jazz at numerous venues and festivals. He has many television and radio appearances to his credit, and released his first album as leader in 2010.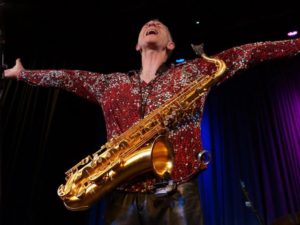 Snake Davis has played with some of the biggest names in contemporary music. He's had a long collaboration with Heather Small of M-People, toured the world with Lisa Stansfield, Annie Lennox and Dave Stewart and played with James Brown, Paul McCartney, George Michael and Tina Turner to name but a few. He wrote the iconic sax solo on Take That's hit record A Million Love Songs.
"Steve is a sensitive repairer who listens, understands, and goes the extra mile to achieve great results"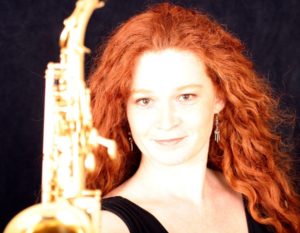 Lara James is widely recognised as Wales'
foremost classical saxophonist and her varied
work as a musician extends from contemporary
classical to many other genres.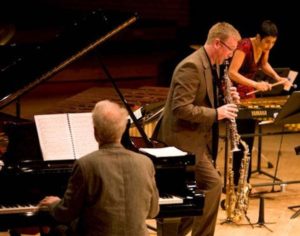 ROB BUCKLAND is internationally acclaimed as one of the most distinctive and versatile Saxophonists of his generation. Appearing as concerto and recital soloist, with his Equivox Trio (with pianist Peter Lawson and percussionist Simone Rebello), and with the Apollo Saxophone Quartet, Rob performs throughout the UK, Europe and Japan.
Recent highlights include the British Premiere of Jacob TV's Saxophone Concerto in May 2009, a solo performance of John Williams' Concerto "Escapades" with the RLPO in Feb 09, and CBSO in Oct 09, a performance of Sir Harrison Birtwistle's "Panic" Concerto at the Royal Festival Hall in London, at the invitation of the composer, a gala concerto performance by invitation at the 14th World Saxophone Congress in Slovenia, a performance with the Macau Chamber Orchestra and three performances with the Chinese National Symphony Orchestra in Beijing in the orchestra's prestigious new-year concerts in Beijing, televised and broadcast to 1.5 million people. Forthcoming Concerto performances include the premiere of the orchestral version of Andy Scott's Dark Rain (a double concerto written for him and John Harle) in the spring of 2010, and a performance of John William's escapades with the Orchestra of Opera North in Feb 2010.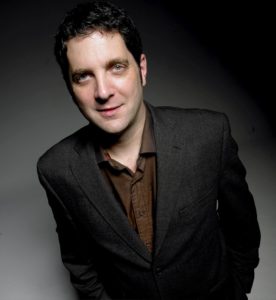 Andy Scott is a respected educator.
As well as directing all size ensembles, giving workshops and master classes in composition, improvisation and ensemble technique at schools, colleges and universities across the UK, Andy is Tutor of Saxophone at the Royal Northern College of Music, and Saxophone Consultant at the Royal Welsh College of Music and Drama.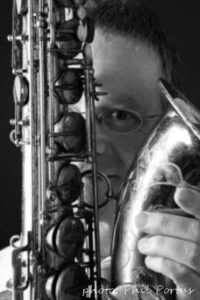 Mike has been an active musician for thirty-five years. After playing the Mozart Clarinet Concerto with the Edinburgh Schools Symphony Orchestra he moved to saxophone with the National Youth Jazz Orchestra and to make frequent national broadcasts with composer/pianist Michael Garrick with whom he toured Malaysia in 1995.
Mike turned professional in 1993. Now, heading Jazz Studies at the RNCM, Mike teaches jazz improvisation, theory, history, saxophone and directs the RNCM Big Band and Jazz Collective. He also maintains a busy performance schedule all over the country.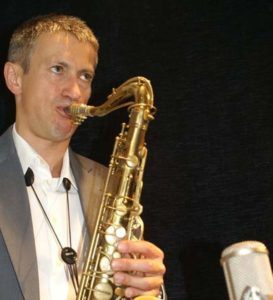 "A stunning player in the neo-bop vein, with an apparently effortless flow of coherent ideas, beautiful time and a highly developed harmonic sense."
JAZZ GUIDE
Dave has played over the years with "everyone and their auntie" from Martin Taylor to Ray Charles, Matthew Herbert to Salif Keita. He has also done a fair amount of studio work (jingles, pop stuff, films, library), composes & arranges for jazz ensembles of all sizes, and teaches saxophone & harmony at the London Centre for Contemporary Music and Goldsmiths College.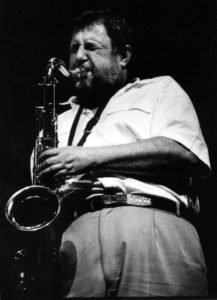 Paul Dunmall (Web site)
After turning professional at seventeen and touring Europe for one year with progressive rock group Marsupilami he moved to America and lived there for 3 years playing with many musicians including Alice Coltrane and toured with Johnny Guitar Watson for one year. On his return to the UK he worked with folk musicians Polly Bolton/Kevin Dempsey and groupings worked around the Dando Shaft band. In 1979 he became a founder member of the jazz group Spirit Level with pianist Tim Richards plus playing free improvised music with the Nigel Morris trio. At this time also Paul played in the London Improvised music scene.  In 1985 the group Tenor Tonic was formed with Alan Skidmore, Tony Levin and Paul Rogers. In 1987 Paul joined the London Jazz Composers Orchestra lead by Barry Guy and joined Danny Thompson's Folk/Jazz hybrid Whatever. The following year the outstanding collective quartet Mujician was formed with Keith Tippett, Tony Levin, Paul Rogers. Whilst playing in these groups Paul was also still playing in many ad hoc groups plus playing in several of Elton Deans ensembles. Since 2000 Paul is still freelancing and has been playing in the composer's Brian Irvine's 14 piece band. In 2003 Brian was commissioned by the BBC to write a full orchestral piece with freely improvised saxophone.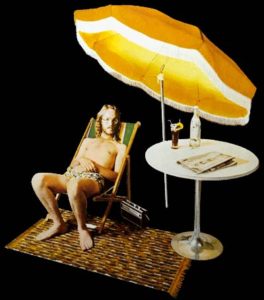 John Helliwell
The first Helliwell official public appearance with Supertramp was in March '74 at the Queens Club in Westcliff although he had also performed the new single with them on the BBCs "Rock On" some weeks previously. Recording for Crime of the Century was finished by June and released in September.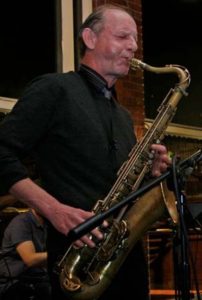 Munch Manship was born in Guisborough, in the North East of England in 1952.
An early interest in Jazz prompted him to take up the Saxophone. The late great Ronnie Asperey taught him and by the age of eighteen Munch was working as a professional musician. His first gigs were with the Gene Jarred Orchestra performing at the Marton Country Club near Middlesbrough. He then joined the Eric Delaney Band, touring the U.K. It was whilst being an itinerant musician he secured an engagement for the Mecca Ballroom Circuit. His first Mecca engagement being with Gene Mayo and his Orchestra at The Top Of The World Ballroom in Stafford.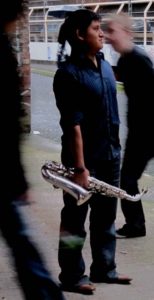 Matt has a growing reputation as a classical contemporary saxophonist and composer specialising on tenor saxophone and is committed to performing, commissioning and composing new music for the instrument.
Matt completed his postgraduate studies at the Royal Northern College of Music in Performance and Composition with Rob Buckland, Andy Scott (saxophone) and Larry Goves (composition) graduating with a distinction. Matt continues his efforts to develop a modern soundworld of composition and saxophone performance. In July 2009, Matt received a scholarship to perform at the 15th World Saxophone Congress in Bangkok, representing the UK and RNCM.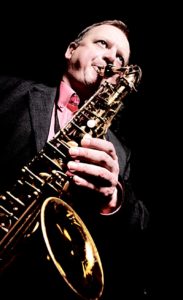 Alan Barnes
1977-80 Alan studied saxophone, woodwinds and arranging at the Leeds College of music.
In 1980 he moved to London, playing with the Midnight Follies Orchestra and the following year was with the Pasadena Roof Orchestra, touring Europe until 1983. In that year he left to join the hard bop band of Tommy Chase where he attracted considerable attention on the UK jazz scene for the first time.
He left Chase in 1986 to co-lead The Jazz Renegades with rock drummer Steve White travelling as far afield as Japan and recording four well-received albums. In 1988 Alan was asked to fill the chair recently vacated by Bruce Turner in the Humphrey Lyttleton band where he stayed until 1992. 1987-97 he also found time to lead the Pizza Express Modern Jazz Sextet with Gerard Prescencer and Dave O'Higgins. Since leaving the Lyttleton band, Alan has concentrated on his freelance career.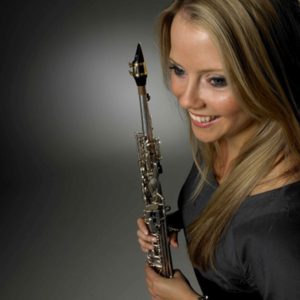 Fiona Asbury
In 2000, Fiona was awarded a scholarship by the Associated Board (ABRSM) to study saxophone at the RNCM, where she studied with Rob Buckland. Whilst a student at the College, she was awarded the RNCM's highest performance award, the Professional Performance Diploma, (PPRNCM). She has since graduated with a first class honours degree. During Fiona's four years at the RNCM, she appeared in master classes with John Harle, Ken Radnofsky and Phil Woods.
Krzysztof Urbanski
My goal is to create a fresh and honest sound of our generation, to keep jazz cool and at the same time to push jazz forward. Because everything is always changing, my goal is to keep jazz as an art form that is still alive. As a result, jazz is in a continuous state of innovation and development. I want to grow as an instrumentalist and also as an improviser, but the main goal to me is to create my own voice as a composer.

Musical instrument insurance (Web site).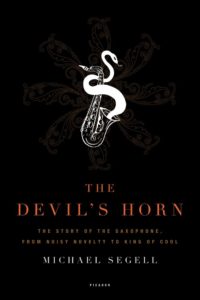 In The Devil's Horn, Segell traces the 160-year history of the saxophone a horn that created a sound never before heard in nature, and that from the moment it debuted has aroused both positive and negative passions among all who hear it.
The saxophone has insinuated itself into virtually every musical idiom that has come along since its birth as well as into music with traditions thousands of years old.
But it has also been controversial, viewed as a symbol of decadence, immorality and lasciviousness: it was banned in Japan, saxophonists have been sent to Siberian lockdown by Communist officials, and a pope even indicted it.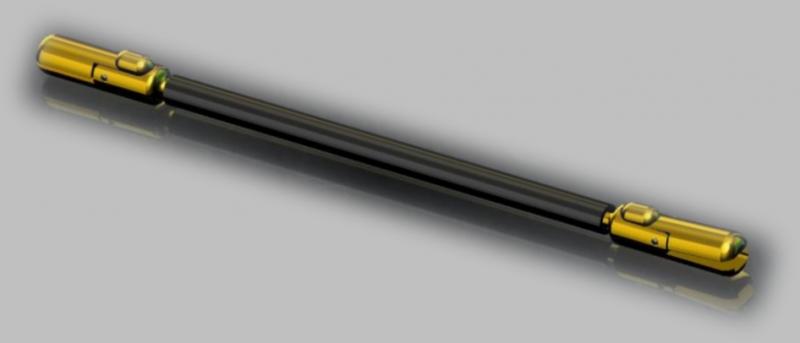 An ingenious and revolutionary product that will improve your sound and comfort when playing the saxophone. Libero is a remarkable patent pending product; high quality brass clamps that attach to 'shoestring' and 'ribbon' design straps/slings, an aluminium central rod with a unique contrary thread action which allows width adjustment whilst attached to the strap/sling.
This enables the musician to adjust Libero to a width which allows optimum comfort, producing maximum resonance when playing. Libero is a stylish high quality, hand assembled product, designed to be quickly fitted and removed.
By preventing a traditional sling from constricting the sides of the neck, Libero enables players to free up their breathing, thereby achieving a better sound. This can transform a saxophonist's playing for a relatively small investment.
Libero has the flexibility to be used with 'shoestring' and 'ribbon' design straps/slings, making it ideal for players who prefer to use different slings for different sizes of saxophone. It can be used with players' existing favourite sling(s), removing any need to adapt to a different style of sling, and can even be adjusted while playing. Although designed for the saxophone player, Libero is equally suitable for clarinet players who choose to play with a neck sling.
Libero is a stylish high-quality accessory, designed to be quickly fitted and removed, and can be adjusted very easily, even while playing.
Available in black with solid brass clamps.
See also